Aztec Media photographs fine art pieces in our studio with a Canon 5D and/or a 4 x 5 film camera. Each digital image is color and density corrected on a dedicated Apple iMac. Each image is saved as a 16 bit TIFF and a 8 bit JPEG file. Images are saved to a CD, or DVD, or flash drive, or uploaded to the web. Color proof prints or contact sheets are provided to each client. We archive artists corrected images for future Giclée prints or for uploading  the image files for marketing, publication printing, or art show submissions.
Two dimensional art, such as paintings and drawings, are photographed using a custom built easel with reflection controlled lighting. Jewelry pieces are photographed under lighting tents to also control reflections. 3D art, sculptures and pottery, are photographed with multiple background options and lit to emphasize the textures and contours of the piece.
Art images are printed with a 12 color, 24-inch archival Canon Giclée printer on Premium Luster photo paper, Somerset Velvet 100% cotton acid free watercolor paper, or Exhibition Satin Canvas 400 gsm acid free canvas. Giclée prints are sprayed for protection and meet archival printing standards. For more information on archive standards, click here.
Photographing a Painting
Capturing art takes patience and a critical eye, along with technology. We use special lighting techniques to capture the painting's truest color without reflections. Our new 50 megapixel camera can capture up to 8,688 pixels in width with stunning clarity.
Step 1: The 36" x 24" CUTTING OUT THE BULL painting by Tim Cox is placed on a custom built easel, leveled vertically and horizontally, and the lights are set. The camera is set to capture the full painting. The monitor is used for fine focusing and review. Three shots are taken at different settings to get the best result.
Step 2: The files are downloaded to our dedicated computer where they are color corrected to match the painting and sized to the client's specifications. TIFF and JPEG files are saved to an Archival Disc and a contact sheet is printed on our archival printer for the client's to reference the files.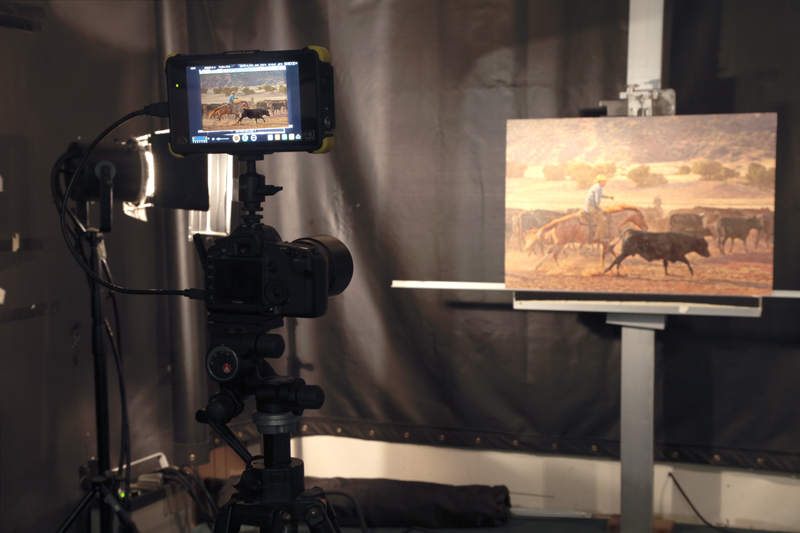 Comparison: This is an example of the new camera technology we are now using. The image on the left is from the previous camera. The image on the right is from the new camera. The new camera provides greater tonal range, a sharper image, a larger image, and greater color control than the previous camera.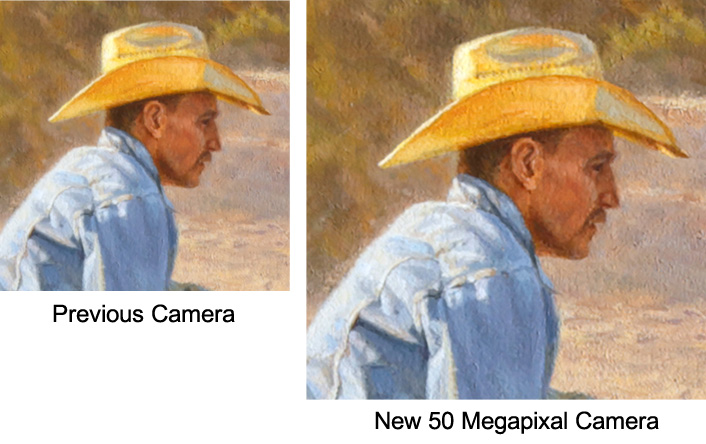 Step 3: Here is the final high resolution digital image of the painting, CUTTING OUT THE BULL by Tim Cox. The final digital file size is 36" x 24" at 300 dpi which was uploaded for fine art reproduction.